Distributor & SMS Reseller
Thanks to our white label you can sell SMS, Email Marketing and Social Network campaigns in minutes
White label SMS platform
Have your own marketing and communications platform with company branding.
Customise the logo
Customise the design
Integrate the platform on your own system
---
SMS, Email, Voice and much more
Offer SMS, Email, Voice and many other services to your clients from the same platform, the most powerful solution for your agency. Offer advanced marketing and telecommunication services.
---
Create and manage your clients
Create new accounts, manage their balance, log in as your clients to manage their accounts, enable multi-accounts for your clients, and much more
---
Afilnet API
Develop your own platform with our API, all the power you need only one step away.
The best reseller panel to sell SMS, Email, Voice and much more
Access to demo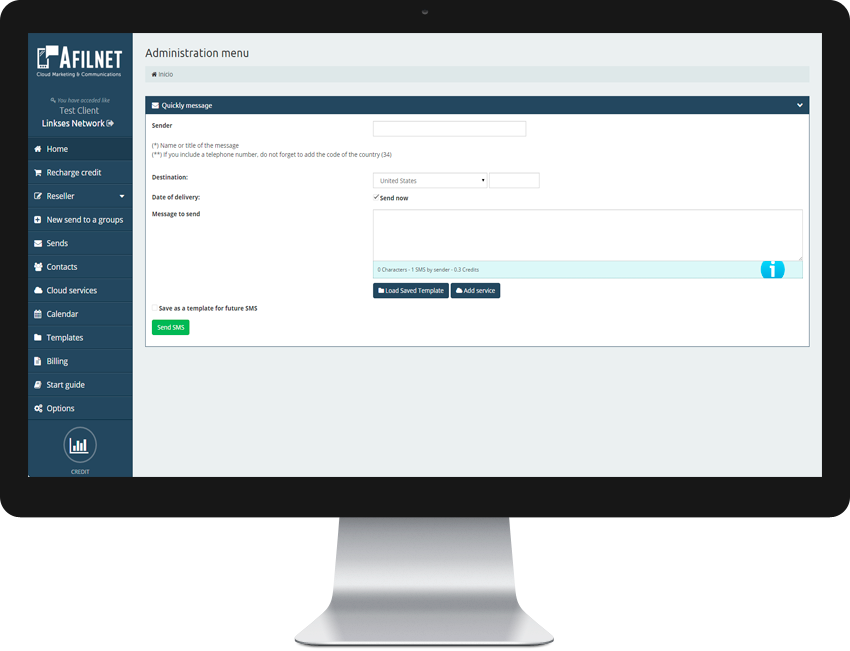 SMS Reseller service features
Create unlimited accounts

Create as many customer accounts as you need.

Customize the style

You can customize the style of your white label in minutes.

Manage payments

Manage the payment methods you want to accept in your company.

Manage your customers

Manage your customers' accounts from your panel.

Your rates

Manage rates on your own panel.

Invoicing included

Automatically generated invoices for your customers.
SMS with personalized sender

Customize the origin of your SMS by indicating a phone number or text. (Not available in all countries)

Global coverage

We connect you with more than 160 countries and 500 operators worldwide

Management panel

Afilnet offers you the most advanced management panel in the world

MultiAccount

Create subaccounts for different departments, subsidiaries or franchises

Shipment tracking

Know your shipments' minute delivery status

The best rates

We work to offer you the best rates to any destination in the world

No expiration

Their credits do not expire, recharge your balance and spend it when you need it

Secure payment

We offer you different secure payment options, so you can recharge without worrying
Clean your contacts

Know the status of phone numbers and remove unavailable ones

Copy and paste

Create contact groups by simply copying and pasting recipient numbers

Advanced search

Search on any field related to your contacts

Advanced edition

Modify "on the fly", copy / paste, replicate groups... Everything you need to manage your contacts

Unlimited

Create groups without limitations of any kind

Import your contacts

Import your contacts easily from XML, TXT or XLS

Export your contacts

Export your contacts easily to XML, TXT or XLS
SMS Personalized by recipient

Send personalized messages with different attributes in a massive and individualized way

SMS Personalized by recipient

Send personalized messages with different attributes in a massive and individualized way

Group events

Schedule events for contacts you add to a group

Calendar

Consult all your past, present and future shipments in the shipment calendar
Presentations

Send practical presentations / catalogues attached to your messages

Surveys

Send surveys to your customers via SMS and analyze their results

Discount coupons

Send discounts to your customers and manage them from your account

Events

Send an event to all your customers and follow the evolution from your account

Attach PDF documents

Send PDF documents to your customers attached in their SMS messages

Contracts and payrolls by SMS

Send your employees' contracts or payrolls directly to the mobile

Audio

Attach to your messages, audio messages, radio spots, music, etc.

Images / Video

Send videos attached with your messages, the most visual way to reach your customers
Frequently asked questions for distributors / resellers
Here you will find more information for Resellers or distributors of SMS, Voice, Email, Social Networks, if you do not solve your doubts you can contact us.
You can be an Afilnet reseller / distributor with only paying 50 Euros / month, this will give you access to additional tools, as well as special distribution rates
Once you have registered as an Afilnet Reseller you will be able to access your private label through a domain only used for Afilnet's white label, this domain is easily configurable by forwarding or simply redirecting your clients
In case you select the Afilnet commercial distributor mode, you will receive the commissions in a maximum of 15 days a month after receiving your invoice
The reseller service allows you to sell your clients Massive SMS, Text to Speech, Email Marketing, Social Networks and Virtual Numbers
Afilnet offers a personalized service to its distributors, if you want to start selling SMS, Email Marketing, Social Networks or Virtual Numbers, get in touch with us, we will advise you and help you take the first steps
Afilnet offers advanced support to its resellers, helping them with any technical and commercial questions that may arise, as well as help in integration and development of services
Try Afilnet for free!
You are just one step away from changing your company's communication forever, from today you will capture and retain your customers better thanks to Afilnet services.
---
Bulk SMS · Email Marketing · Social network · Instant messaging · Virtual phone numbers · and much more