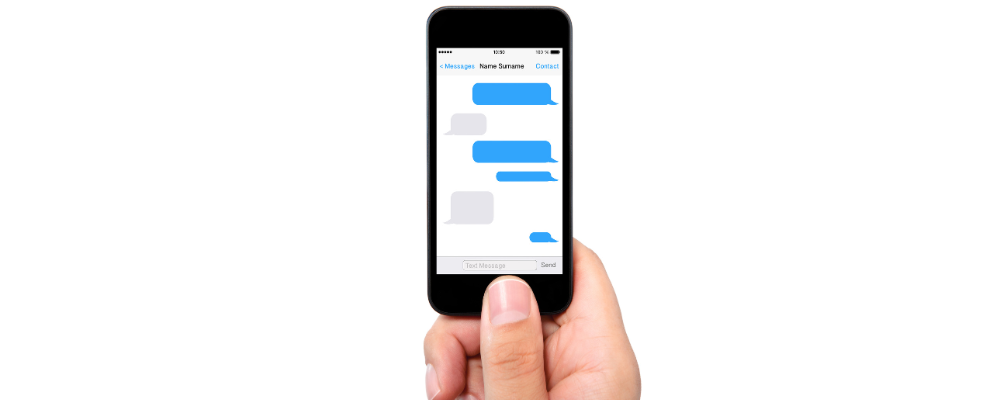 Do you want your SMS Marketing strategy to be really successful and reach all the goals you have set? To achieve this, it is important to know which are the mistakes that you should not make, mistakes that reduce the effectiveness and potential of SMS Marketing by limiting all your efforts.
Let us not forget that, like any marketing campaign aimed at winning over new buyers while retaining the old ones, the mass sending of SMS messages must be planned in each of its elements, structuring and defining each step to follow, detecting in time all those aspects that must be modified to achieve clearly defined goals.
So, if your brand wants to communicate with its customers effectively and quickly, boosting the level of sales and profits collected, it is essential to determine all the steps that are part of your SMS Marketing plan, avoiding all those common mistakes that are not They will help you. We are going to talk about this and much more in the article that we prepare for you today.
The most common and worst mistakes to avoid in the SMS marketing campaign
Many times companies and stores decide to implement SMS Marketing to give new impetus to the brand, taking advantage of a communication channel that is not yet oversaturated such as emails. However, for this SMS marketing strategy to be effective and beneficial for any type of business, it is essential to avoid the main mistakes, which are unfortunately very common.
That is why, below, we are going to present you one by one the mistakes and mistakes that turn out to be fatal if you want to achieve a positive psychological and emotional reaction with the target audience.
Do not request authorization from clients
The worst mistake you can make is to send promotional and informative SMS messages to your contact database without having previously obtained their explicit consent . This type of mistake can cause problems not only with your SMS marketing advertising campaign , but also can cause legal problems. In fact, you have to know that in various parts of the world there are very strict regulations on respect for user privacy and the use of their personal data.
What does it mean? Simply that legal regulations require you to previously obtain the explicit authorization of the client, who must provide you with their personal information voluntarily, granting permission to send text messages. Otherwise, you may have to pay fines for not respecting what is imposed by the regulations of the country where you operate, as in the different European countries where the GDPR governs.
That is why we advise you to start your campaign to send bulk SMS only to a database of contacts that you have created yourself, because you will be sure that the stored phone numbers belong to people who want to receive information from your brand. .
Using bulk SMS sporadically without planning
Another mistake that many stores tend to make is to use the text message as a direct channel between the brand and the audience, but in a secondary way, that is, from time to time, as an alternative to Email Marketing. On the contrary, sending mass messages becomes a means that helps create a closer relationship with users interested in your brand. Because? It is an SMS marketing strategy that is direct, customizable and quick to use to send content that is relevant and of interest to a certain segment of people .
So, far from being an obsolete channel that is about to be forgotten, SMS marketing is a powerful tool that you should use frequently to send all those notifications that capture the attention of recipients, revealing all the news about your company.
In fact, you must not forget that mass sending of text messages is an extremely versatile communication tool , despite its 160 characters . In a matter of minutes you will be able to send promotions, discounts, coupons, personal notifications about the delivery status of products or services purchased and even request opinions and launch surveys. Everything will depend on your requirements.
Send your text messages outside of the time slot
Likewise, a very frequent mistake nowadays that generates emotional discomfort in the receiver is receiving messages at any time, even late at night. This type of error not only annoys the audience, but also damages the brand name, since the message can be categorized as SPAM.
However, there are some exceptions such as emergency notifications, what we recommend is to plan in advance what is the best time to send a promotional message by analyzing the market and determining what is the most appropriate time. To give you some more concrete examples, in a campaign you should avoid setting the delivery time at dawn, preferring to do the programming between 10:00 and 17:00.
Failing to create captivating, personalized copy
Although it is true that SMS Marketing allows you to send thousands of text messages in a few minutes, this does not mean that you should distribute the same unattractive, non-personalized and generalized transactional and notification message to your entire database.
Indeed, in order to capture the attention of the recipients, the personalization and originality of the copy created is essential. It is about preparing a personalized message that provides content of interest that adds value to the recipient user, offering information that respects the tastes and needs of each one. That is why we want to suggest that you carry out a prior analysis of segmentation of your audience based on personal tastes and then create an authentic and unique copy capable of creating a closer relationship with the client.
Not taking advantage of the advantages offered by CTAs
Competition these days is fierce. Thousands of companies seek to capture the attention of the target audience, so it is not so simple to captivate users and encourage them to make a purchase. Faced with this situation, it is key to use all those interactive and intuitive tools that arouse the curiosity of the recipients. We are referring to the famous CTAs , that is, the call-to-action buttons.
Not incorporating the use of CTAs in SMS is a frequent mistake that, however, you should not do. In fact, call-to-action buttons are those instruments that encourage the user to complete an action that you want them to do, such as entering your web store, taking advantage of a discount or subscribing to your newsletter. Without a call-to-action, your customer is less likely to interact with the content you have sent, thus reducing the chances of making a sale.
Sending too many messages to the same users (SPAM)
Earlier, we have mentioned that sending an SMS outside of the correct hours can cause each text message to be categorized as SPAM. Now, there is another type of error that can lead to this same situation: sending messages daily harassing the recipient who will be annoyed and will mark you as SPAM.
In this sense, although it is true that to keep the audience captivated it is key to send attractive SMS with a certain frequency, this does not mean that you should fill the user's phone with endless messages that will be annoying, especially since mobile SMS is something very personal. Therefore, in this case, what we want to suggest is to be careful with the number of notifications sent to respect the privacy of the user , establishing a continuous flow of conversation that is not heavy or invasive.
Do not add intuitive service cancellation options
Finally, another mistake that many companies often make and that you should not make is not integrating an optimized unsubscribe management mode that is easy for your audience to find. In this regard, we must point out that the success of a campaign does not only have to do with your ability to offer content that is of value. You should also give recipients the opportunity to decide if they want to continue receiving your messages or not.
Complying with this service not only guarantees a higher level of trust in your contact database. In fact, it is a legal requirement imposed by privacy and personal data protection regulations that you must respect.
Try Afilnet's SMS Marketing tools if you want to improve your sales
If you made it this far: Congratulations! You have already discovered all the errors to avoid to succeed with your SMS Marketing campaign. Now, if you want to reap the best results, the best thing you can do is trust the Afilnet service, a leading provider in the field of telecommunications and marketing that makes all the tools you need to be successful with marketing available to you. by SMS.
Indeed, Afilnet has created an intuitive and easily accessible platform where you can create, configure and schedule the sending of thousands of messages in a few minutes to always keep all your potential customers informed, saving time, money and resources.
Quality and professionalism are the key pillars of Afilnet, which guarantees access to the service at all times thanks to its global connection with all operators. And, as if this were not enough, it offers the integration of a comfortable and versatile API with your business software to optimize the management of the SMS Marketing campaign.
If you want to succeed and increase the profits of your brand, what are you waiting for? Get in touch with Afilnet and start promoting through the massive sending of SMS.